UPDATE: This competition is now closed and the winner was Anne Cah.
It's competition time, and you can win $50 worth of fabric and patterns with Voodoo Rabbit and
Funky Friends Factory
!
We are so excited that Pauline has finally finished her
Fleur the Flamingo sewing pattern
because we have been begging her to design a flamingo toy pattern all year :) While I was picking fabrics to make a shop sample we ended up having an argument over which fabrics to use. In the end I made up 3 Flamingos and we are settling the argument by running a ...
CHOOSE THE CUTEST FLAMINGO COMPETITION!!!
Let us know which Flamingo you think is the cutest - to be in the running to win a $25 fabric voucher from Voodoo Rabbit and a $25 Funky Friends Factory pattern voucher.
Without further ado, here are the contestants.
The first bird down the catwalk is Geekly Chic:
The next beautiful bird is Rivoli Bubble:
This leggy lovely is Rose Pink:
And last but not least is Pauline's Pretty Preener: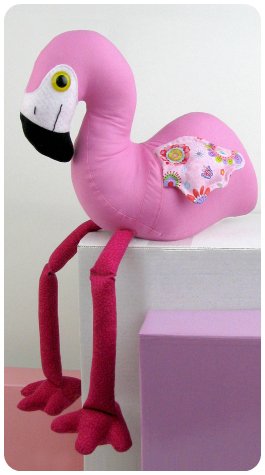 How do I enter I hear you ask?
All you need to do is to choose which stuffed toy flamingo is your favourite and let us know in the comments below. For a second chance pop over to the
Funky Friends Factory blog
and leave a comment there as well.
***** The winner will be drawn on Friday 13th December
so don't forget to check back to see if it is your lucky day!!! *****
Good luck everyone - may the best Flamingo win!
- Ky